Location
HTGR Research and Development Center
Oarai Research and Development Institute
Japan Atomic Energy Agency (JAEA)
4002 Narita-cho, O-arai-machi, Higashi-ibaraki-gun, Ibaraki 311-1393, Japan
Access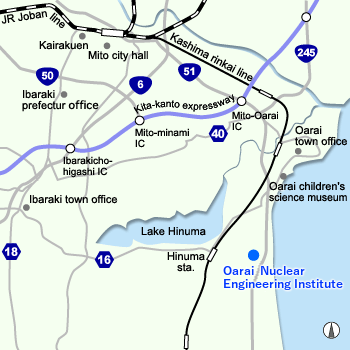 1. From Narita Airport (NRT) to Mito
The Limousine bus, Rose liner, departs at Terminal 1 Gate No.5 and Terminal 2 Gate No.10. Both of bus stops located at ground floor. It takes about 130 minutes from NRT to Mito.
2. From Tokyo to Mito
Transportation to Mito from Tokyo using JR line is shown in the following diagram. Go to JR Ueno station initially. Then transfer to Super Hitachi Limited express or Fresh Hitachi Limited express or Joban local train - Futsuu for Mito.
Express : The Joban Limited Expresses (Super Hitachi or Fresh Hitachi) depart from No.16 or No. 17 platform. All Expresses go to Mito and are available every 30 minutes. It takes about 65-84minutes.
Local : The Joban local trains Futsuu depart from one of No. 8 to No. 11 platforms. It is scheduled about every 30 minutes. The trains bound for Mito, Katsuta, Takahagi, Otsuko, and Iwaki stop at Mito station. It takes about 130 minutes.
3. Between Mito and JAERI Oarai-site
It is convenient to come to the Oarai Research and Development Institute by taxi.