Purpose of the Forum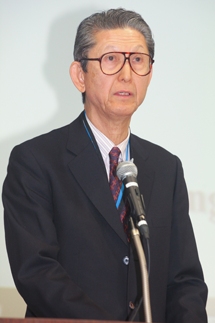 Dr. Atsuyuki SUZUKI
The Japan Atomic Energy Agency annually holds an international forum on peaceful use of nuclear energy and nuclear nonproliferation in order to promote public understanding of nuclear nonproliferation policy and to contribute to the international community. Through speeches, lectures and panel discussions focusing on current issues, the forum deepens Japanese and international understanding of issues and policies related to the compatibility between the peaceful use of nuclear energy and nuclear nonproliferation. At the same time, the forum presents initiatives by Japan and the JAEA on nuclear nonproliferation.
Our current issues concerning nuclear nonproliferation and the peaceful use of nuclear power are ensuring Japan's nuclear safety and enhancing nuclear security measures in light of the accident at Tokyo Electric Power Company's Fukushima Daiichi nuclear power plant (the Fukushima nuclear accident). Regarding nuclear security in particular, the 2010 Washington Nuclear Security Summit adopted a communiqué and a work plan calling for enhancement of management systems for nuclear material and nuclear facilities and the establishment of an international management system within four years. The world will be watching the concrete action that each country, including Japan, takes on nuclear security.
Under these circumstances, the 2011 International Forum was held with the goals of discussing comprehensive approaches to nuclear safety and security, together with various activities reported by the United States and other participants to enhance nuclear security against terrorist acts at nuclear facilities in light of the Fukushima nuclear accident. Another goal for the Forum was to deliver a message to the 2012 Seoul Nuclear Security Summit in Seoul.
Date and Venue, etc.
Date:

8 December 2011 (Thursday): 10:00-17:00
9 December 2011 (Friday): 9:30-12:00

Venue:

HALL A,

"BELLE SALLE IIDABASHI FIRST"

Organizer:
Report
Program / Distributed materials
8 December
Keynote Speeches and Special Lectures
Opening Remarks
Dr. Atsuyuki SUZUKI, JAEA President
Keynote Speeches
"Nuclear security and safety issues revealed by the Fukushima Nuclear Accident"

Mr. Yoshinori SUEMATSU, Special Advisor to the Prime Minister
Mr. Denis FLORY, Deputy Director General and Head of Department of Nuclear Safety and Security, International Atomic Energy Agency (IAEA)
Special Lectures
"An Integrated Approach to the Nuclear Safety-Security Interface - U.S. Nuclear Regulatory Commission Perspectives"

Mr. Marc L. DAPAS, Deputy Director, Office of Nuclear Security and Incident Response, U.S. Nuclear Regulatory Commission (U.S. NRC)
Dr. Didier HAAS, Adviser to the Director General, Joint Research Centre (JRC), European Commission
Mr. Choong-hee HAHN, 2012 Seoul Nuclear Security Summit Sous Sherpa, Ministry of Foreign Affairs and Trade, Republic of Korea
Panel Discussion 1
"Nuclear security strategies and measures for civil nuclear facilities"
Moderator

Panelists

Supplement Information
Reception
17:30 - 19:00, 8 December in room "BELLE SALLE IIDABASHI FIRST"
9 December

Panel Discussion 2
"An Integrated Approaches to Nuclear Safety and Nuclear Security"
Moderator

Panelists
Closing Remarks
Prof. Hiroyuki TAKAHASHI, Professor, Graduate School of Engineering, The University of Tokyo
Ambassador Tetsuya ENDO, Senior Fellow, the Japan Institute of International Affairs (JIIA)