Possession of technology and development power
Radiation Meter
A radiation meter that combines ease of use with a high degree of confidence
There are concerns regarding the adequate measurement of radiation in the wake of the accident at the Fukushima Daiichi Nuclear Power Station of the Tokyo Electric Power Company.
Equipment for the measurement of radiation is essential, and there are various types of radiation meters that range from expensive and highly accurate meters for specialist to readily available, low-cost meters from large-scale electrical equipment vendors.
Measurement results obtained by various meters tend to differ, even for measurements conducted in the same location, and questions of reliability and accuracy have been raised. Moreover, concerns have been voiced regarding the degree of safety attributable to a given measurement value.
In the Nuclear Science Research Institute (NSRI), there are many radiation measurement specialists with radiation detection technology and electronics technology that can measure doses of radiation with a very high degree of accuracy.
These specialists work on the development of technology for highly accurate measurement of γ-line doses of radiation from sources such as radioactive cesium, and they are cooperating with manufacturers for the commercialization of this technology.
Commercialization was achieved through various technological improvements that were repeatedly applied to a prototype machine. The enterprise that commercialized this technology was Iwatsu Test Instruments Co., Ltd., which is a 100% subsidiary company of the Iwatsu Electric Co., Ltd. and a manufacturer that develops, manufactures, and sells a variety of electronic measurement equipment and electric counting systems.
Although demand for radiation meters has rapidly risen owing to the accident at the Fukushima Daiichi Nuclear Power Plant, Iwatsu Test Instruments Co., Ltd. was previously not a manufacturer of radiation meters. However, through patent technology, technology transfer, and so on from JAEA, Iwatsu Test Instruments Co., Ltd. quickly realized commercialization of handicap-type radiation meters.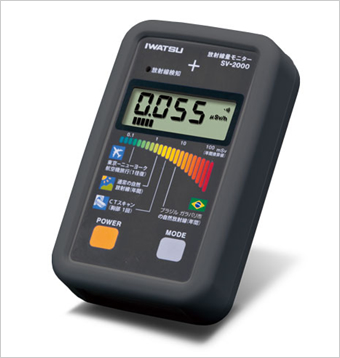 Radiation meter developed by Iwatsu Test Instruments Co., Ltd.