Possession of technology and development power
Separation Technology
The separation technology for radio isotopes used in medical treatment and produced by neutron activation within a nuclear reactor.
Diagnostic Nuclear Medicine facilitates the diagnosis of disease by administering radioisotopes (RIs) internally. This allows for imaging of the body via examination of the internal distribution of the RIs. Technetium-99m (Tc-99m) is a commonly used RI because of its short, six-hour half-life such that the influence of the radiation on the body is minimal.
Tc-99m is derived from Molybdenum-99 (Mo-99). Unfortunately, the largest source of Mo-99 is derived from highly enriched uranium sources, and RI manufacturers hope for the establishment of a new processing technology facilitating the medical use of Mo-99.
The Nuclear Science Research Institute (NSRI) is uniquely poised to establish new processing technology to produce Tc-99m for medical use because it possesses a research reactor, irradiation equipment, analysis equipment, and advanced technology, and has the facilities to perform this work safely.
NSRI has entrusted a Tc-99m separation and collection process pilot project* to KAKEN Ltd., and is contributing to technological development for the domestic production of Tc-99m. The processing method employed utilizes Mo-99 derived from neutron-activated natural molybdenum irradiated in the research reactor and the Tc-99m RI obtained by means of separation refinement by a new uncoupled method.
*NSRI executed the pilot project in areas with high level of radiation contamination with research and development that KAKEN Ltd. had obtained from the Japan Science and Technology Agency (JST).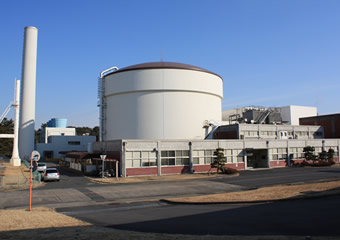 Research reactor JRR-3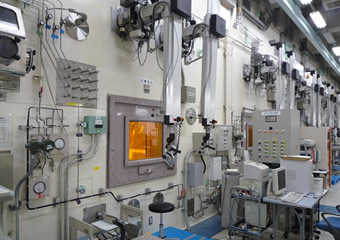 Concrete cell in NUCEF