Investigation of radioactive waste
The Back-end Fuel Cycle Key Elements Research Facility (BECKY)
◎ Purpose of the facility
  BECKY was established for research related to the back-end of the nuclear fuel cycle, such as reprocessing of spent fuel and disposal of radioactive waste.
◎ R&D for the recovery of the Fukushima Daiichi accident
  R&D activities are being conducted for the treatment and handling of the fuel debris arising from the Fukushima Daiichi Nuclear Power Plant accident, such as research regarding the characteristics of fuel debris, quantification of fuel debris compositions, fuel debris reprocessing technology, chemical behavior of cesium and strontium in the environment, and treatment technology for cesium-containing radioactive solution waste.
◎ Completion year of construction
1992
Hot operation began in 1994
◎ Features of the facility
  BECKY is a large, complex facility for fundamental research on the safety and technology advancement for the back-end of the nuclear fuel cycle. Many types of apparatuses are installed in the facility, such as concrete cells, steel cells, glove boxes, hoods, and various experimental instruments. These apparatuses are selected and utilized depending on materials and conditions. In particular, steel cells and some glove boxes have been fitted with special instruments and operate in an atmosphere containing a high-purity inert gas (argon gas) to conduct tests under decreased oxygen conditions.
◎ Equipment
  The hot laboratory for nuclear fuel materials and radioisotopes houses the following equipment:
Concrete cells
3 units (a loading cell, process cell, and chemical cell)
Steel cells
3 units
Glove boxes
30 units
Hoods
20 units
Experimental apparatus
Analytical laboratory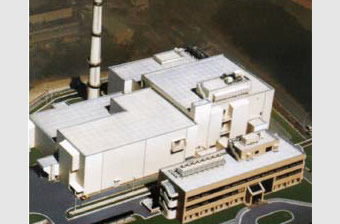 A view of the facility
◎ R&D activities
〇 Research using concrete cells
・R&D on separation processes
  Spent fuel contains various types of materials: uranium and plutonium, which are reusable as nuclear fuel materials; industrially useful and precious materials such as platinum group metals; and long-lived radioactive materials such as TRU elements. The spent fuel separation process will make it possible to reduce the amount of high-level radioactive waste and facilitate reasonable disposal.
・Improvement of the present reprocessing process
  R&D for the improvement of the present reprocessing process has been conducted using a radiation resistant extractant. Moreover, a simplified process has been developed to reduce the cost of reprocessing.
〇R&D using steel cells
・Research on TRU high-temperature chemistry
  A dry reprocessing process, which is based on waterless metal refining technology, has been developed as one of the next-generation reprocessing technologies. The dry reprocessing process has several advantages over the PUREX process, such as simplicity of methodology, a high economic efficiency, and a resulting product that consists of a relatively small amount of radioactive waste. For the development of this dry reprocessing process, basic data on thermal and physical properties of TRU elements have been accumulated through research activities conducted using steel cells.
〇R&D using glove boxes
・Research on radioactive waste disposal

  Fundamental data on the disposal of high-level radioactive waste have been accumulated during the glove box experiments, such as the state and geochemical behavior of radioactive wastes buried deep underground 103 to 104 years in the future. The experimental data obtained will be utilized for safety assessment of the regulations for the geologic disposal of high-level radioactive wastes.
〇R&D using hoods
・Research on microanalysis
  BECKY is one of the facilities in the network of analytical laboratories organized by IAEA in the Asian district. Nondeclared nuclear activities can be unequivocally detected by analyzing an extremely small quantity of environmental sample taken by IAEA from suspicious sites. This analytical activity conducted at BECKY has contributed greatly to international cooperation and peaceful use of atomic energy.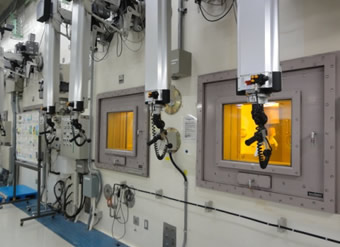 Concrete cells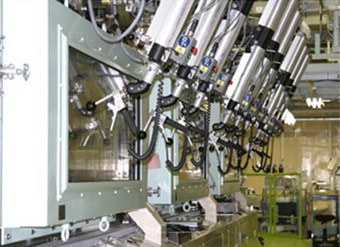 Steel cells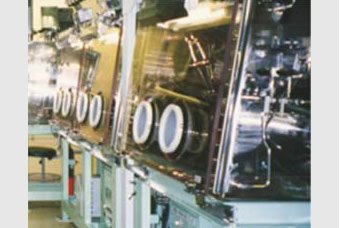 Glove boxes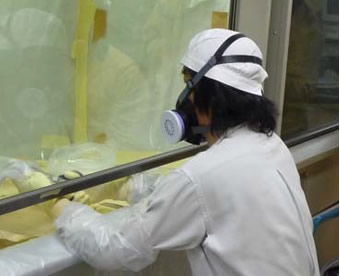 hood
The Facility of Simulation Test for Environmental Radionuclide Migration (STEM)
◎ Purpose of the facility
  This facility focuses on experimental research for the geological disposal of radioactive wastes.
◎ Completion year of construction
1983
◎ Features of the facility
  Geological disposal system experiments can be conducted in both standard and low-oxygen atmospheres for sorption and migration tests of long-lived radionuclides through engineered barriers (such as carbon steel, cement, and bentonite materials) and natural barriers (such as soil and rock).
◎ Equipment
  The facility was designed for use of radioisotopes include the following: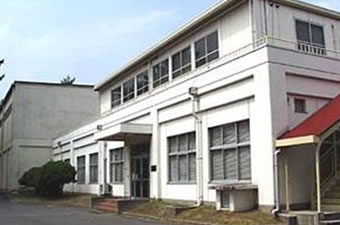 A view of the facility