Nuclear nonproliferation
The Clean Laboratory for Environmental Analysis and Research (CLEAR)
◎ Purpose of the facility
  The CLEAR facility is a clean-room facility for research and development of ultra-trace analysis methods of nuclear materials in environmental samples. The main activities in the facility are as follows:
・ establishment of analysis methods of environmental samples to accommodate the strengthened safeguard activities based on the program of IAEA;
・ application of environmental sample analysis techniques toward facilitating Comprehensive Nuclear Test Ban Treaty (CTBT) verification; and
・ basic research and development related to environmental sciences.
◎ Completion year of construction
2001
◎ Equipment
  The facility was designed for the usage of small amounts of nuclear fuel materials and radioisotopes include the following:
◎ Features of the facility
  CLEAR is the first laboratory-scale clean-room facility in Japan, where reliable analysis on ultra-trace amounts of nuclear materials is possible because of the following:
・ filtered, clean air prevents background contamination of samples and equipment;
・ very small amounts of nuclear materials (U and Pu), used as reference materials for analysis, can be tested; and
・ chemical treatment of samples using strongly corrosive acids is possible.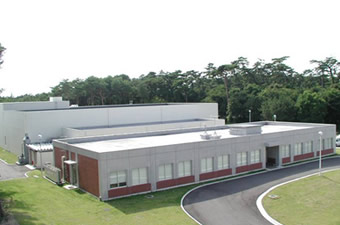 ◎ The analytical building layout
  Chemical treatments such as sample pretreatment, separation, purification, and reagent preparation are conducted in the chemistry area. Analytical equipment for isotope ratio and radioactivity measurements is installed in the instrument area. Utility machinery for the equipment is allocated in the service area.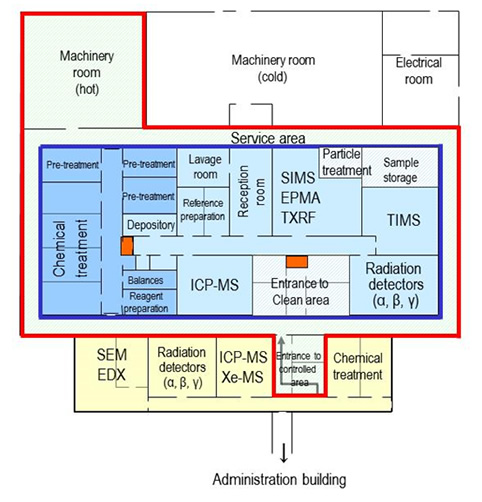 ◎ Clean rooms
  Clean air, filtered by high-efficiency particulate air (HEPA) filters, is supplied into the facility's clean rooms, and is recycled through filter fan units. The interior of the clean rooms is kept at a higher pressure than that of the service area, according to the cleanness standards set for each room, to prevent external contamination.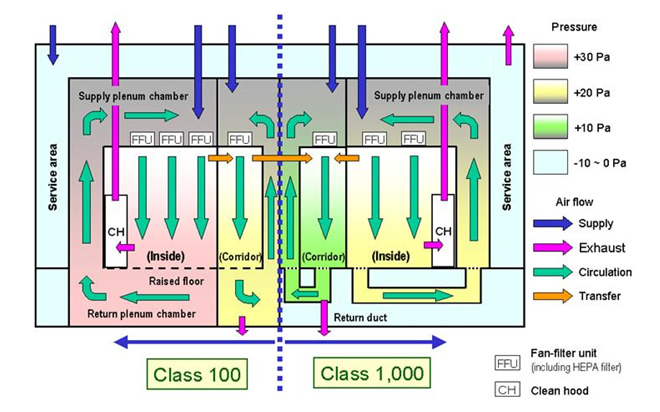 Cleanness class
  This characteristic is defined as the maximum number of particles, having a diameter in excess of 0.5 μm, allowable in a single cubic foot. For comparison, the number of such particles in a cubic foot of a standard room, such as a common office room, can be more than one million.
◎ Analytical method for environmental samples that serve as contamination safeguards