Task B: Systematic integration of repository technology options
Introduction
In order to arrange and construct disposal tunnels and pits / holes in suitable rock volumes, it is of great importance to design the detailed layout of them taking into consideration the distribution, spatial scale and hydraulic properties of faults and fractures and their potential impacts on likely radionuclide migration and the long-term stability of an engineered barrier system (EBS). Criteria are thus required for locating the disposal tunnels and pits / holes and their adequacy should be ensured through the in situ demonstration of process from the initial geological characterisation to the design and final construction of a tunnel and pits / holes. As a range of technology options for each process have been developed to date, it is suggested that such options should be advanced using the state-of-the-art technology as possible and the systematic integration of available options should then be demonstrated.
The main aims of this task are to:
Develop technology options that could contribute to the operation of disposal sites;
Establish the concepts and criteria for locating disposal pits / holes in suitable rock domains around the disposal tunnels; and
Demonstrate the systematic integration of available technology options to arrange and construct the disposal pits / holes.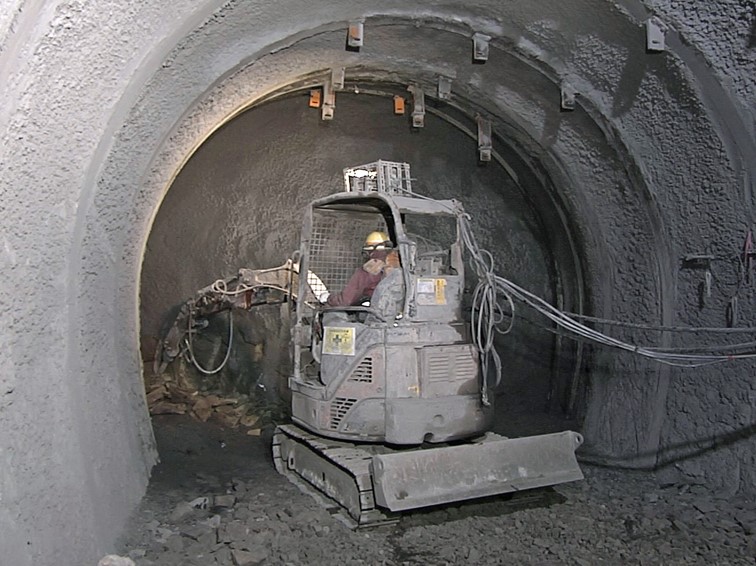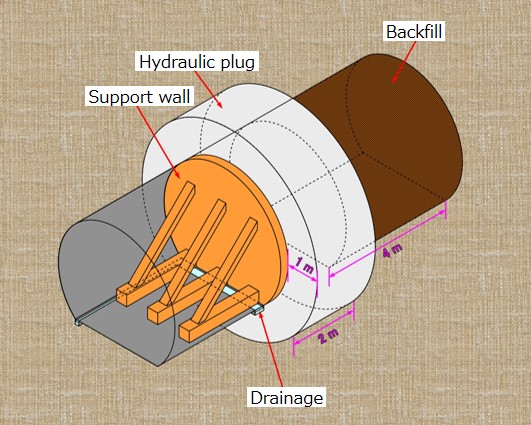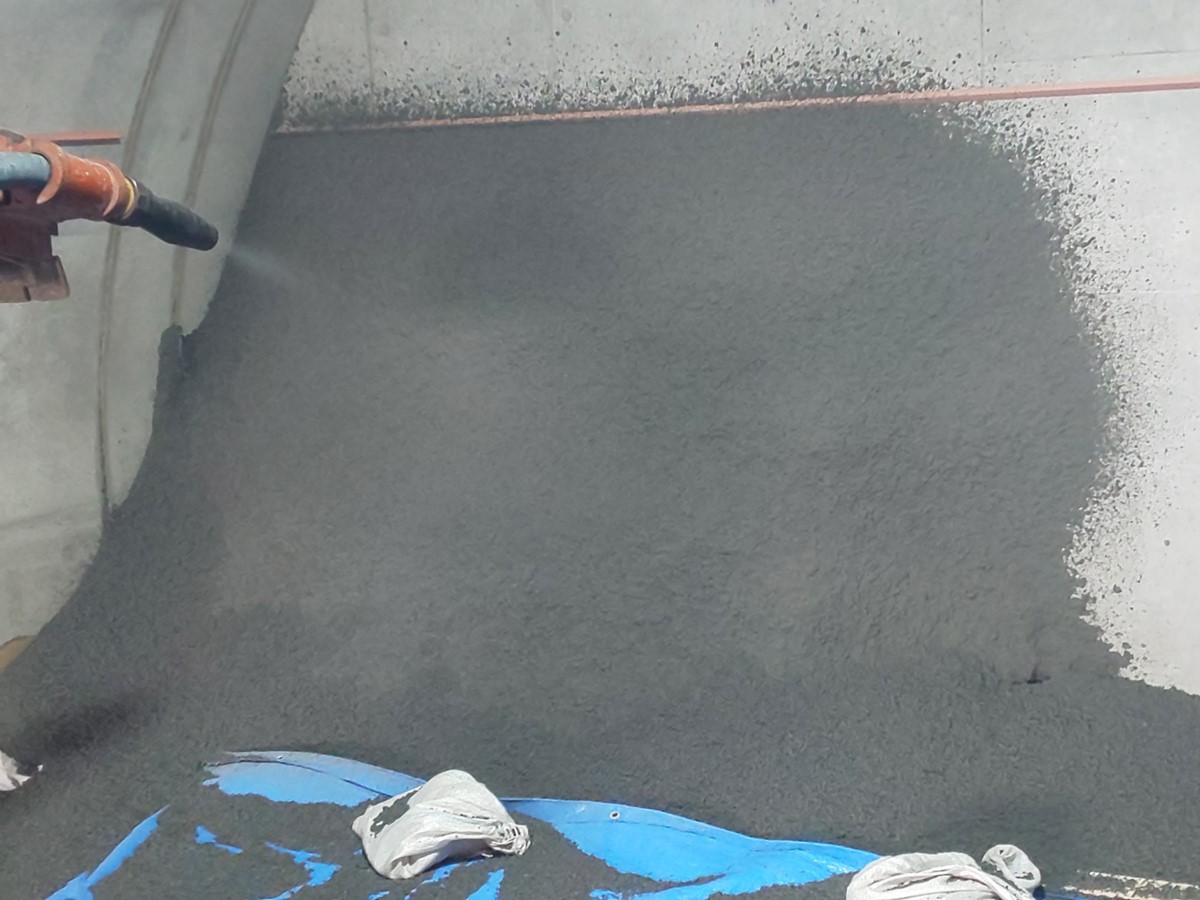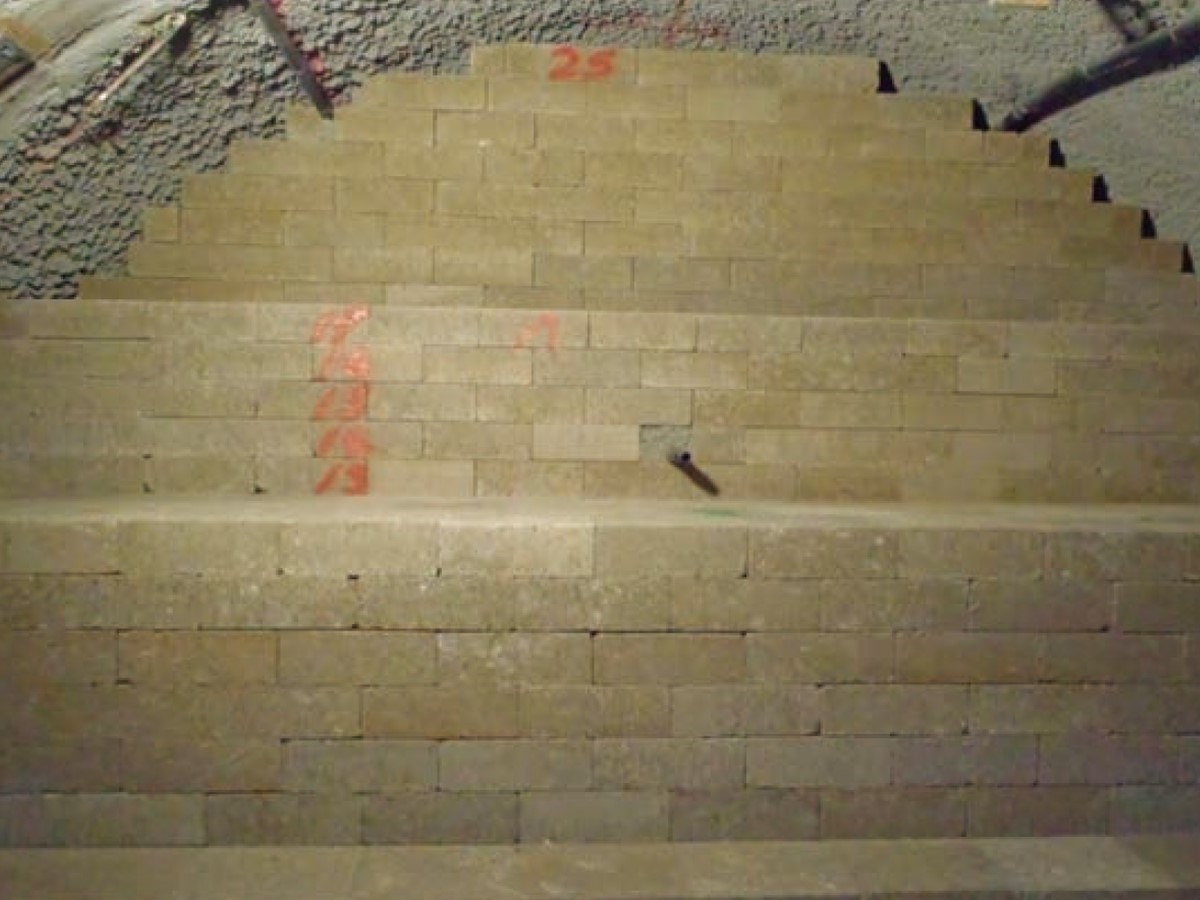 Schematic illustration of full-scale demonstration of tunnel closure technologies (left)
Different methods for backfill construction: shotclay method (middle); block method (right)
Subtasks
B-1: Development of design concepts / criteria and systematic integration approach

The latest information on technology options for repository design, construction and operation is compiled and a case study is carried out to establish a systematic framework to rationally locate the disposal pits / holes including the development of the design concepts / criteria.
B-2: Demonstration of systematic integration of technology options

Galleries and a pit are excavated at 500 mbgl by applying the integrated technology options based on the systematic framework and their applicability is assessed. The data relevant to groundwater inflow and the development of an excavation damaged zone is obtained before, during and after the excavation and they are compared with the predictions to test the model.
B-3: Development of repository operation technologies

Repository operation technologies, such as the excavation of a disposal pit / hole and the emplacement of the EBS, and remote and robotics technologies are developed and tested. In addition, quality assurance and control methodologies are established.
B-4: Borehole test

Relevant technologies for the borehole disposal concept are demonstrated in situ, which include emplacing bentonite blocks and backfilling and sealing a borehole with bentonite.