What is High Temperature Gas-cooled Reactor (HTGR) ?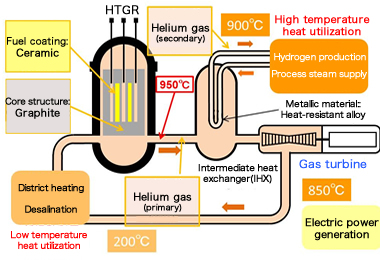 Helium gas cooled reactor with outlet coolant temperature of 950ºC.
80% of reactor thermal power can be utilized by a cascade energy system for hydrogen production, power generation and desalination.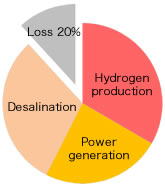 Superior inherent safety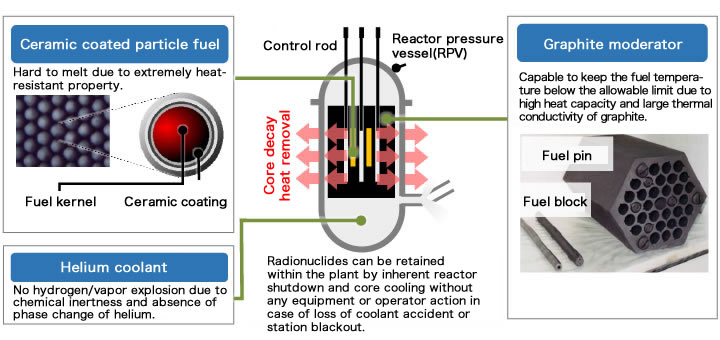 Specification of High Temperature engineering Test Reactor (HTTR)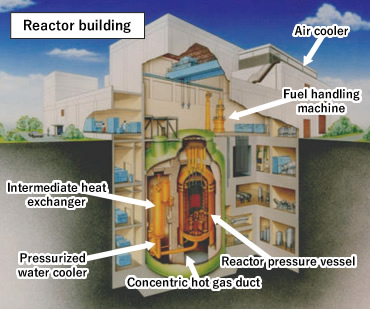 Reactor thermal power: 30MW
Reactor coolant:Helium gas
Reactor inlet/outlet coolant temperature :395/850, 950℃
Reactor core material:Graphite
Fuel:UO2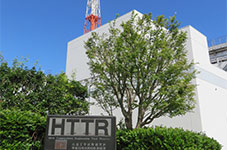 Safety demonstration test with HTTR
Test procedures
Reactor power 30%(9MW)
Tripping all gas circulators to reduce primary coolant flow rate to zero. → No core cooling!
No reactor scram operation of reactor (No control rod insertion).→ No core reactivity control!
Test results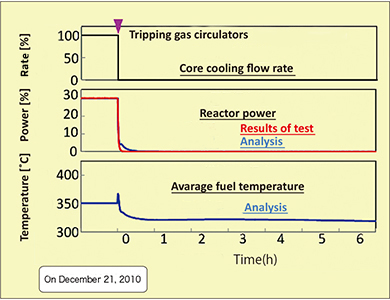 Reactor was naturally shut down as soon as the core cooling flow rate had been reduced to zero.(Scram operation is not required.)
Reactor was kept stable for hours after the loss of core cooling.(No fuel damage. No escalation into severe accident)
Naturally Safe!
Technology of water splitting hydrogen production –Thermochemical IS process-
Reaction scheme and features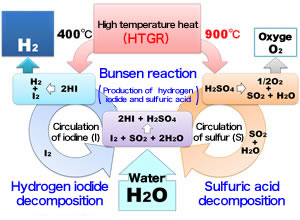 ■

Thermal water decomposition:
Heat over 4000ºC is required.
■

IS Process:
Chemical reactions of iodine (I) and sulfur (S) enable water decomposition at about 900ºC.
・I and S re-circulate in the process.
→ No release of harmful chemicals
・HTGR supplies heat energy driving the process.
→ No emission of CO2
Hydrogen production test facility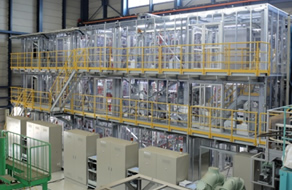 ■

Continuous hydrogen production was achieved at the rate of 30 L/h for 150 hours.(January 2019)

■

Purpose:
Verification of integrity of total process components made of industrial materials