Summary
Japan Atomic Energy Agency (President: Shojiro Matsuura; hereafter 'JAEA') has continued the development of a gyrotron, a high-power microwave source to heat a fusion plasma in a fusion reactor. A gyrotron that is capable of microwave output at two different frequencies has been newly developed, and 1000-kilowatt output and 100-second duration have been achieved simultaneously at the two frequencies, 110 gigahertz and 138 gigahertz, for the first time in the world. This result represents a significant step forward for realizing a microwave heating system capable of variable heating locations without using movable mirrors inside a fusion reactor.
Background and achievements
One of the heating methods for a fusion plasma up to hundreds of millions degrees Celsius is to use microwaves typically with the power of a few tens of thousands kilowatts. A gyrotron, which is a high-output-power microwave source used for this purpose, generates and outputs microwaves by accelerating electrons in a strong magnetic field and converting the electrons' rotation energy to microwave energy. The energy to be not output as microwaves results in undesired heating of various components inside the gyrotron as a loss, and thereby limits the output power and duration due to overheat. For this reason, a conventional gyrotron has been designed for output of a single frequency, but a multi-frequency high-power long-pulse gyrotron without changing any components has not been developed yet. JAEA has developed a two-frequency gyrotron (Fig. 1), in which a low loss of power is realized at the two frequencies, 110 gigahertz and 138 gigahertz, by carefully changing the characteristics of electron beams using a triode electron gun, an electron emitter with three electrodes. As a result, an output power of 1000 kilowatts, which corresponds to a typical value required per one gyrotron for a fusion reactor and the duration of 100 seconds, for which temperatures of the gyrotron components reach a steady state, have been achieved simultaneously for the first time in the world (Fig. 2).
Since microwaves injected to a fusion plasma are absorbed in a narrow region of the plasma depending on the strength of the local magnetic field, the absorbed location can be changed by changing the microwave frequency. The newly developed gyrotron will be used for the superconducting tokamak device JT-60SA (JT-60 super advanced), which is under construction at the Naka Fusion Institute in collaboration with Europe (Fig. 3). By utilizing the capability of variable frequency, microwaves can be injected to the plasma in a wide range of experimental conditions. The present design method for the two-frequency gyrotron will be applied to the development of a multi-frequency gyrotron, so that the performance of a fusion reactor can be enhanced by changing the heating locations without using movable mirrors inside the reactor.
This result will be presented at the 25th IAEA Fusion Energy Conference to be held in this October in Saint Petersburg, Russia.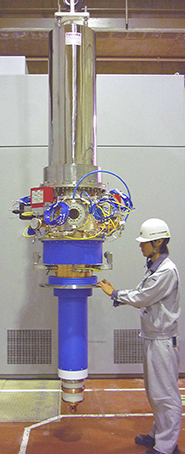 Fig. 1: A new two-frequency gyrotron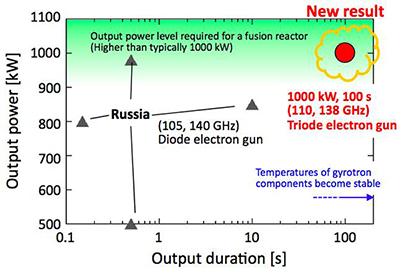 Fig. 2: Progress in the development of two-frequency gyrotrons in the world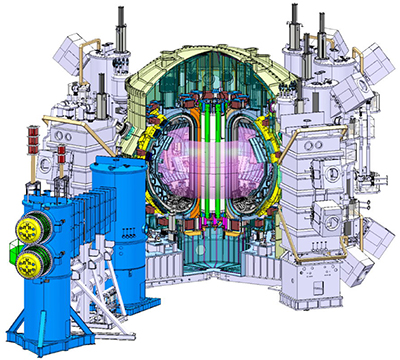 Fig. 3: The JT-60SA tokamak