Overcoming a host of technological challenges, the first 5 of the 49 new and improved superconducting conductors have been completed in Japan for the ITER central solenoid coil. The baton has now been handed to the US who is in charge of the next leg in the procurement process, using these conductors to manufacture the central solenoid.
Japan Atomic Energy Agency (JAEA) supplies 100% of the conductors for the central solenoid, based on the international agreement for sharing manufacturing responsibilities between the 7 participating members of ITER. The central solenoid is the centerpiece of ITER which will use the world's largest electrical current at 45 kilo amperes, over 20 years of pulse operation with 60,000 cycling electromagnetic loads.
In 2010, experiments involving conventional conductors saw a gradual decrease in performance over time, and an investigation was started to identify the cause of and solution to this performance degradation. Through a lot of research and development, JAEA finally uncovered the cause of this decrease in performance: some of the strands that make up part of the conductor were being put under strain inside the protective stainless steel jacket that sheathes many of the strands. Working together with the ITER organization, a solution was found by shortening the twist pitch (the length required for 1 complete turn) of the strands in the jacket. The stronger the strands are twisted, the shorter the pitch becomes. This makes the strands more resistant to strain and makes them more durable.
In 2012, a sample of the new and improved conductor was tested using specialized equipment at the Swiss Federal Institute of Technology in Lausanne, Switzerland. Fortunately, none of the previous problems emerged and durable high-performance conductors, the likes of which the world has never seen before, were successfully developed.
Since no single manufacturer in the world can produce the enormous amount (700 tons) of conductor required, JAEA placed orders with 6 different companies, prepared the necessary production equipment, and orchestrated all necessary technological procedures. Only then were the conductors able to be mass produced at the full capacity of the factories.
The first shipment was sent out on June 25th, 2014 from Kitakyushu in southwestern Japan. This is the first time an ITER component from Japan will be shipped abroad, and is an important milestone for Japanese contributions and a big step forward for the construction of ITER. The conductors are now on their way to a factory in Long Beach, California where they will be assembled before the entire central solenoid is finally sent to ITER in the south of France for installation. Production will continue until 2017 on a regular basis with continuous scheduled shipments to the US.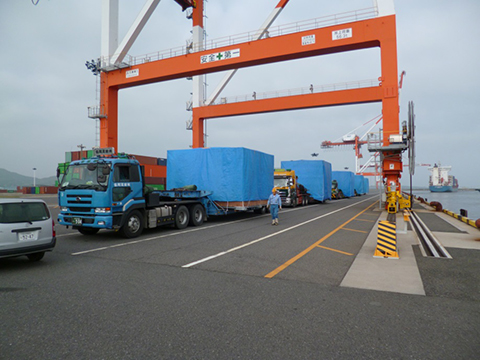 The CS conductor convoy awaiting shipment at Kitakyushu, Japan.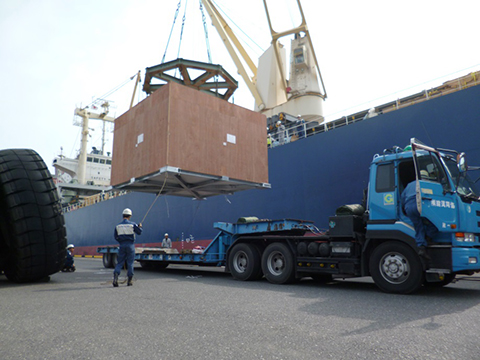 One of the CS conductors being loaded for its voyage to Long Beach, California, USA.