The 'Action Plan for the Implementation of the Strategic Partnership between the Government of Japan and the Government of the Republic of Poland for the years 2017-2020' was signed in Japan-Poland Foreign Ministers' Meeting on May 18th, 2017. As one of the specific actions for the years 2017-2020, encouragement of cooperation in research and development on high temperature gas-cooled reactor technologies between the Japan Atomic Energy Agency (JAEA) and National Centre for Nuclear Research of Poland (NCBJ) is clearly stated in the section of Economic, Science and Technology Cooperation in the Action Plan.
On the same day, JAEA and NCBJ concluded a memorandum of cooperation in the field of HTGR technologies such as HTGR design, irradiation effect on fuel and materials, etc. based on the Action Plan and cooperation was started. Poland started cooperation with JAEA to facilitate HTGR development. (*1 and *2)
(*1) Launching cooperation with Poland and the United Kingdom concerning the High Temperature Gas-cooled Reactor (HTGR) technologies
(*2) National Centre for Nuclear Research : Japanese interested in Polish HTR programme
Against this backdrop, Executive Director (Director General for Sector of Nuclear Science Research), Yukitoshi Miura, along with Director General for HTGR Hydrogen and Heat Application Research Center, Kazuhiko Kunitomi who heads research and development on HTGR, made a courtesy visit to the Ambassador of the Republic of Poland to Japan, Jacek Izydorczyk, on June 29th, 2017.
They explained the excellent safety features of HTGR and the high performance of HTGR for providing high temperature heat to industries, and the world cutting-edge Japanese HTGR technologies to Ambassador Jacek Izydorczyk. It was understood that international cooperation between JAEA and NCBJ to promote HTGR development in Poland in the future is importance.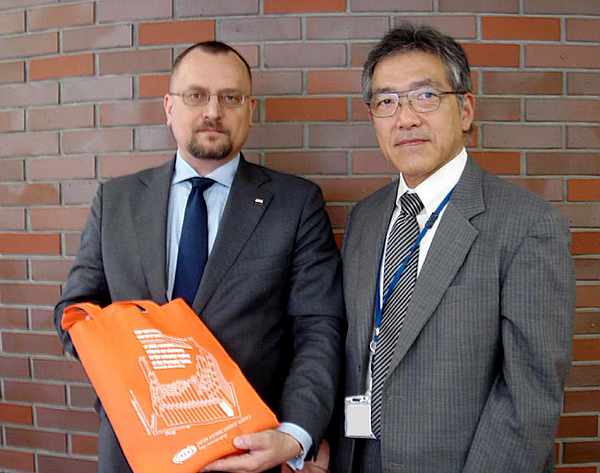 Photo : Ambassador of the Republic of Poland to Japan, Jacek Izydorczyk(Left) and Executive Director, Yukitoshi Miura(Right)