Training activity plan in FY2023
NEAT performs training for emergency responders and officials of the national and local governments involved in nuclear emergency preparedness and response. This is a part of the technical support activities of NEAT to the official organizations. The training course includes the basics of protection of emergency responders themselves from radioactive exposures and contamination.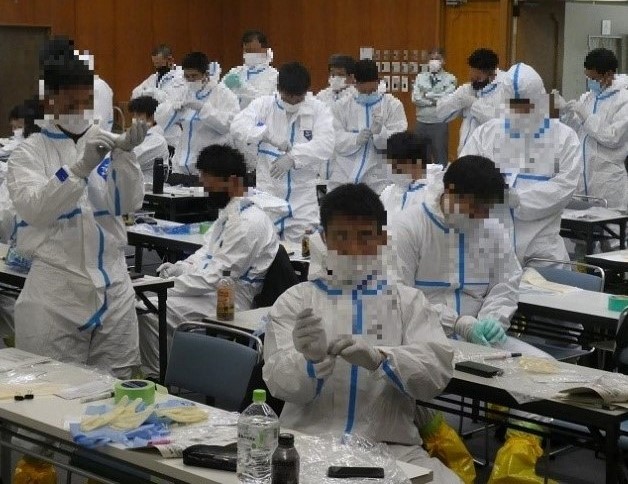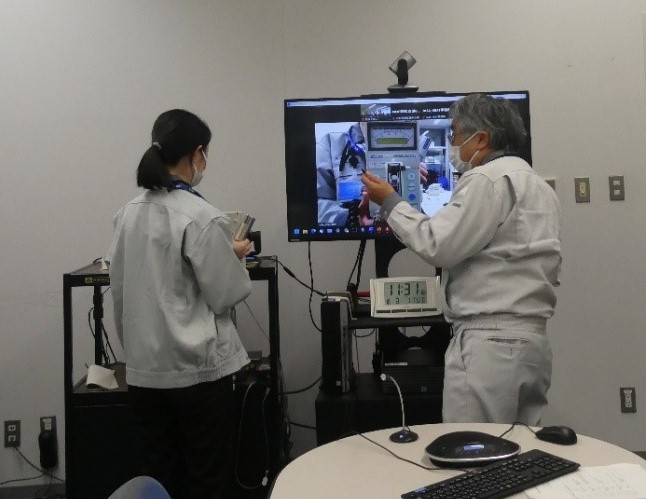 Photos of trainings performed in FY2022
Target trainees
Emergency response related personnel of Japanese official bodies such as the national government, local governments, police, fire departments, etc.
Standard curriculum
Theme
Contents
Allocated time [minutes]
Outline of radiation protection measures

Basic knowledge on radiation / radioactive materials and their effect on human bodies
Contents of the protective actions for the residents in a nuclear emergency
Exposure protection methods for the emergency responders themselves

110
Measurement of radiation doses

Usage of air dose-rate and surface contamination survey meters and personal dosimeter
Measurement practice (or demonstration) of air dose rates and surface contamination
Demonstration of simple decontamination

100
Putting on / removing protective clothes

Usage of various protective equipment
Practice of putting on / removing protective equipment

70
Contents and features of training
1) Useful contents for initial responses to emergencies
For trainees themselves, radiation protection countermeasures, contamination countermeasures, and radiation measurement methods, etc., which are required for responding to a nuclear emergency, are introduced through lectures and practices, including experiences obtained by the TEPCO Fukushima Daiichi Nuclear Power Station (NPS) accident. The training is practical and helpful for the responders who work at off-sites for radiation protection and for radiation screening of evacuated residents.
2) Lecturers with a lot of experiences
The JAEA staff, who have many experiences in supporting activities for emergency responses to TEPCO Fukushima Daiichi NPS accident, or experiences of practices for radiation management of JAEA facilities, give lectures and practices.
Training information
The training is held upon application from the organization. We adjust the contents and curriculum according to the requests in addition to the number of participants, schedule, location, and equipment to be used.
The training will be conducted by the lecturers dispatched from JAEA/NEAT. If the training includes practices, the organization is required to provide the training venue and equipment for the practices. If not, video conferencing systems are available for remote lectures.

Training performance in FY2021
In FY2021, the JAEA/NEAT provided "Training in radiation protection for emergency responders themselves" for persons involved in the nuclear disaster prevention of national and local governments, etc. It also conducted training and dispatched lecturers at the requests of local governments and disaster prevention related organizations.
We avoided the "Three Cs" (Closed spaces, Crowded places, Close-contact settings) to prevent infection and requested wearing a mask and checking symptoms with participants. We also disinfected training equipment. Additionally, due to the declaration of the emergency to curb the spread of the novel coronavirus infection, some trainings have been canceled.
The total number of participants in the training courses was 410. The training performance is summarized in the table below.
Training Performance of the JAEA/NEAT in FY 2021

| Training course name | Frequency | Number of participants |
| --- | --- | --- |
| Training in radiation protection for emergency responders themselves (Fire and Disaster Management College, Tochigi Prefectural Fire Academy, Abiko-Nishi Fire Department) | 6 | 262 |
| Training for responding to nuclear disasters (Ibaraki Prefectural Police Headquarters) | 1 | 19 |
| Basic training in nuclear disaster prevention (FY2021; Hokkaido Prefecture) | 4 | 129 |