Sixth Symposium on US-Japan Nuclear Energy Research Cooperation (February 24, 2023)
A streaming video of the symposium is available.
Presentations can also be viewed by clicking on the hyperlinks below.
"The Symposium on US-Japan Nuclear Energy Research Cooperation" was organized by the Japan Atomic Energy Agency (JAEA) in Washington D.C. on February 24, 2023.
This year's symposium, now the sixth in its series, was held in a face-to-face format for the first time in three and a half years, following an online format in 2020 and a hybrid format in 2021, due to the impact of COVID-19.
The participants from the U.S. side included officials of the Department of Energy (DOE), the co-organizer, the Nuclear Regulatory Commission (NRC), experts of U.S. national laboratories, and representatives of the relevant industry. Meanwhile those from the Japan side included the JAEA senior management team, government officials from the Embassy of Japan in the United States of America (lending their support to the event), the Ministry of Education, Culture, Sports, Science and Technology (MEXT), and the Ministry of Economy, Trade and Industry (METI), as well as representatives of Japanese electric utilities and vendors concerned. Approximately 100 people participated in the event.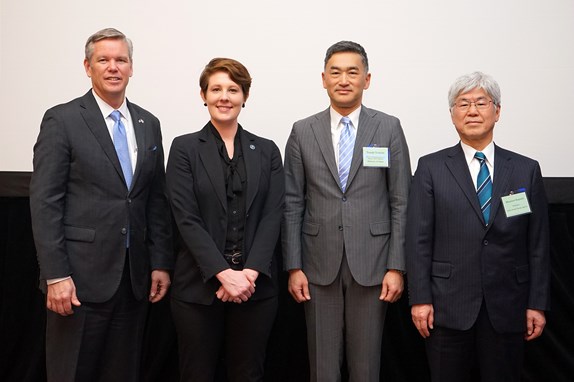 As an opening address, Mr. KOGUCHI Masanori, President, JAEA () emphasized the significance of nuclear energy today from the perspective of climate change and energy security, and in particular the importance of exploring new possibilities for the use of nuclear energy, such as the production of hydrogen and other non-power application, in optimizing the use of overall energy including renewable energy, as well as the importance of international collaboration to enhance the value of nuclear energy. He reminded the audience that the symposia have been held since 2017 with the aim of pursuing further cooperation possibilities and expanding the human network on issues of common interest for the nuclear communities in Japan and the U.S. He also stated that this year's symposium, the sixth of its series, will focus on the advanced reactors and nuclear safety research, and thanked the participants.
Dr. Kathryn Huff, Assistant Secretary, Office of Nuclear Energy, DOE (CV), expressed her appreciation for the opportunity to attend the symposium in a face-to-face format, following her participation via video letter at the JAEA briefing session held in Tokyo last year. She expressed the importance of strong and ongoing cooperation between the U.S. and Japan in the nuclear field, especially at a time when exactly one year has passed since the start of Russia's invasion of Ukraine, and noted that the importance of trustworthy partners in nuclear energy is once again being recognized. She welcomed that Japan had come back to nuclear energy in terms of resuming operations of existing reactors and pursuing advanced reactors and affirmed the importance of cooperation among laboratories in the fields of light water reactors, advanced reactors, fuel cycles, etc., under the U.S.-Japan Civil Nuclear Energy Research and Development Working Group (CNWG). She expressed her hope that such cooperation would lead not only to research and development but also to the deployment of advanced reactors, and shared her view that the symposium as a lynchpin for U.S.-Japan cooperation in the nuclear field.
Amb. TSUKADA Tamaki, Deputy Chief of Mission, Embassy of Japan (CV), mentioned that this was the third time he had attended the symposium and attributed his continued participation to the value of the symposium. He referred to the recent editorial in The New York Times in which David E. Sanger had written that we may face a new world which will look at first glance similar to the one of a half century ago when the arms races were full swing and nations could field as many nuclear weapons as they wanted. He expressed that now that the nuclear risk has increased alike, U.S.-Japan nuclear cooperation has become even more important for strengthening the bilateral relationship. He stated that Japan has entered a new era of nuclear energy, so to speak, as the GX (Green Transformation) Basic Policy and Roadmap, recently approved by the Cabinet, calls for the accelerated restart of the existing fleet of nuclear reactors, the extension of operation periods, the replacement of decommissioned nuclear reactors with advanced reactors, and an expansion of R&D. Lastly, he also touched on the topic of the discharge of ALPS treated water into the sea, which is expected to be conducted in the spring or summer of this year under the premises of safety and transparency. Additionally, he discussed the change in public opinion regarding nuclear energy (the public opinion in favor of nuclear energy exceeded 50% for the first time since the Great East Japan Earthquake in a poll conducted at the end of the previous week) and the importance of safety and transparency as essential elements to securing public support for the nuclear energy. He concluded by his remarks by thanking the U.S. for its continued support.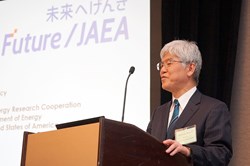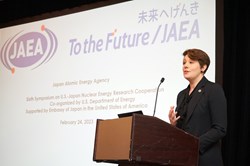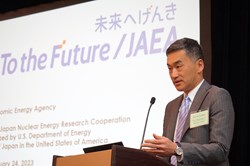 As a keynote address, Chair Christopher T. Hanson, NRC (CV), presented NRC's efforts to help build and operate the advanced reactors (as summarized below).
We have a very exciting situation where interest in advanced reactors is growing around the world, and NRC and regulatory organizations in other countries are working to prepare for the implementation of efficient regulations to ensure that the advanced reactors are built and operated with nuclear safety and security in mind.
International collaboration is essential because many technological developments and activities currently taking place in the nuclear world cannot be handled by a single country. The strong cooperation among NRC, JAEA, and Nuclear Regulation Authority (NRA) has improved nuclear safety both in the U.S. and Japan and thus worldwide.
On my recent visit to TEPCO's Fukushima Daiichi Nuclear Power Station, I was impressed by the courage and perseverance of the staff working there, which renewed my respect for Japan's openness in sharing knowledge gained in the decommissioning process.
NRC is currently reviewing the licensing applications of "Hermes" of Kairos Power LLC and the molten salt research reactor planned by Abilene Christian University. Pre-application engagement is underway with companies such as TerraPower, X-Energy and Westinghouse, whose efforts are important in paving the way for a smooth and efficient licensing review process. Meanwhile, NRC continues to work on 10CFR Part 53, a "technology inclusive", "risk-informed" and "performance-based" regulatory framework for new reactor applications.
JAEA's collaboration with TerraPower with an aim to share Japan's experience of fast reactor benefits NRC licensing review.
NRC recently conducted a comprehensive review of export control regulations, including those for the potential export of small modular reactors (SMRs) and advanced reactors overseas, and concluded that it is ready to accept export licensing applications for five reactor types.
We are conducting a joint review of designs as a pilot project with the Canadian Nuclear Safety Commission (CSNC) and expect to gain insight into the effectiveness of such international joint reviews.
Testing and research activities are essential to the deployment of advanced reactors, and NRC has continued to work in cooperation with U.S. national laboratories, reactor designers, and the international community. It is vital to take advantage of the world's research facilities and capabilities, and we would like to continue acquiring Japan's knowledge and expertise.
Mr. John F. Kotek, Senior Vice President for Policy Development and Public Affairs, Nuclear Energy Institute (NEI) (CV), shared his view on nuclear trends in the U.S. and abroad, particularly in the industry (as summarized below).
The next generation of nuclear technology has tremendous opportunity.
In the U.S., although greenhouse gas reductions are not mandatory, many electric utilities have voluntarily pledged to achieve net zero by 2050 (83% of the U.S. electric customers are served by the utilities that have committed to net zero in 2050).
There are two trends for nuclear reactors: One is the subsequent license renewal of the existing fleet to 80 years of operation (Utilities plan to seek the subsequent licensing renewal for over 90% of the existing reactors). The other is to introduce new types of reactors (The deployment of additional 90GW by 2050 is considered in the U.S.).
I am very much impressed with Japan's recent policy decisions.
In the 1980s, I started my career and was involved in the U.S.-Japan cooperative program on liquid metal-cooled reactors. The partnership that has developed since then, including various R&D cooperation programs, lays the groundwork for the U.S.-Japan relationship to lead the world in areas such as advanced reactors, eliminating the dependence of the U.S. and Japan on China and Russia.
Financing is an element which determined the success of advanced reactor projects, so Japan and the U.S. need to cooperate to establish a low-cost financing system.
Whether it is an SMR or an advanced reactor, continuous improvement is needed even after the technology is deployed. Research facilities such as the versatile test reactor (VTR) are important for this purpose.
Mr. KOBAYASHI Izuru, Deputy Commissioner for International Affairs, Agency for Natural Resources and Energy (ANRE), METI (CV, Presentation Material) introduced an overview of Japan's nuclear policy (as summarized below).
Japan aims to achieve carbon neutrality by 2050. With regard to nuclear energy, Japan will promote the restart of existing reactors, prioritizing safety and work on the development of advanced reactors that incorporates new safety mechanisms.
In January 2023, METI and DOE issued a joint statement on cooperation for energy security and clean energy transition. METI will support the technological development of various types of reactors, such as SMRs, fast reactors, and high temperature gas-cooled reactors (HTGRs) under international cooperation.
The Government of Japan plans to issue JPY 20 trillion in bonds over the next 10 years to accelerate GX.
Efforts to improve safety after the accident at TEPCO's Fukushima Daiichi Nuclear Power Station include the installation of corium shields in Units 6 and 7 of the Kashiwazaki Kariwa Nuclear Power Plant, as well as the development of seismic isolation system and Accident Tolerant Fuel (ATF).
Mr. SHIMASAKI Seiichi, Director, Office for Nuclear Fuel Cycles and Decommissioning, Research and Development Bureau, MEXT, (CV, Presentation Material) referred to the current status of Japan's nuclear R&D and decommissioning of research facilities (as summarized below).
As for Fast Reactor JOYO, all review meetings by the NRA for modification of the reactor installation license were completed two days ago (on February 22) and all necessary documents were submitted to the NRA. If the procedure goes smoothly, the license is expected to be granted in the middle of this year. After seismic reinforcement, it is scheduled to resume operation in 2025 to provide a fast neutron flux irradiation field. When restarted, it will be the only operating fast reactor in the western world.
High Temperature Engineering Test Reactor (HTTR), which has high safety features, will be used for safety demonstration tests and hydrogen production demonstration tests.
An expert panel established by MEXT is discussing the need for a series of new infrastructures such as fast neutron irradiation reactors, new fuel fabrication facilities, and reprocessing demonstration fields in order to promote the development of advanced reactors.
Other topics covered

New infrastructure and R&D projects are vital not only for the further development of advanced reactors but also for human resource development and maintaining cultivated skills and technology.
Reactor R&D is vital and so are fuel cycle technologies.
Building new reactors and new research facilities is a key to success but financial challenges and regulatory requirements have to be overcome.
Dialogue with regulatory authorities on advanced reactors is becoming more and more crucial.
International collaboration with like-minded countries is also critical.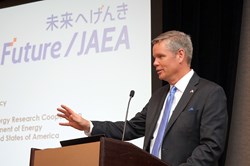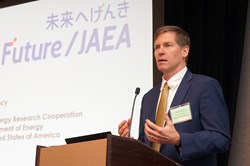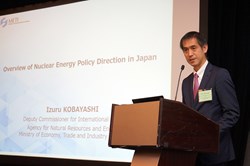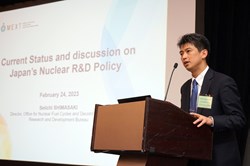 Panel Discussion 1 "Role of National Laboratories and U.S.-Japan R&D Cooperation with a View to Early Implementation of Advanced Reactors and Their Utilization in Non-Power Fields"
Ms. Alice Caponiti, Deputy Assistant Secretary, Reactor Fleet and Advanced Reactor Deployment, the Office of Nuclear Energy, DOE, (CV, Presentation Material) addressed the future of nuclear R&D. She pointed out the need to pursue a new role for nuclear energy (heat utilization, flexibility, etc.) with a view to integrating it with renewable energy to achieve net-zero future. She also noted that an additional 200GWe of capacity by 2050 (90GWe, 400GWe, etc., depending on the scenario reported) is required, and the workforce needs to be secured to deploy it (additional 250,000 to 300,000 by 2050), as well as the importance of strategic partnership between the public and private sectors and the role of national laboratories (development of advanced fuels such as TRISO, modeling and simulation, sensors and instrumentation, advanced materials and manufacturing technologies, etc.) in support of the partnership. She introduced examples of opportunities for nuclear cooperation between the U.S. and Japan including university-led research, collaborative research, and cooperation through private-public partnerships regarding the demonstration of advanced technologies.
Mr. Raymond V. Furstenau, Director, Office of Nuclear Regulatory Research, NRC (CV, Presentation Material) introduced licensing pathways for advanced reactors in the U.S. He mentioned that the current trend of deploying advanced reactors is a challenge for NRC, but that it is ready and prepared to meet the challenge, and that early interaction (preliminary discussion and issue assessment) with potential applicants is very important in the process. Then he explained 10 CFR Part 53, which is being developed as a new framework for advanced reactors, the status of pre-application engagement with vendors including non-power applications (e.g. heat utilization by Xe-100), activities of the Office of Nuclear Regulatory Research (e.g. regulatory support through code development), and cooperation with national laboratories and DOE. With regard to cooperation with the national laboratories and DOE, he expressed his views that the intent of Congress enacting the Nuclear Energy Innovation Capabilities Act (NEICA) of 2017 was to facilitate collaboration with the national laboratories and DOE, including sharing knowledge, expertise, facilities, and personnel capabilities to the extent that NRC's independence is not jeopardized, so that NRC does not stand in the way of the deployment of advanced reactors, and that NRC had a good collaboration with DOE. As for U.S.-Japan cooperation, he highlighted his visit to JOYO, HTTR, and other Oarai facilities, noting that he was impressed by them. He also stressed the importance of HTTR operation and JOYO restart with a view to obtaining data necessary for the validation of modeling and simulation codes. He emphasized that he looks forward to continued cooperation with JAEA through multilateral cooperation such as the OECD/NEA joint project for the safety demonstration test of the HTTR in case of loss of cooling function (OECD/NEA LOFC project, of which NRC staff chairs the steering committee), Framework for IrraDiation ExperimentS (FIDES-II)/High-Burnup Experiments in Reactivity-Initiated Accidents (HERA), and Fukushima Daiichi Nuclear Power Station Accident Information Collection and Evaluation Project (FACE).
Mr. Jess C. Gehin, Associate Laboratory Director, Nuclear Science & Technology, Idaho National Laboratory (INL) (CV, Presentation Material) introduced INL's efforts as a national laboratory for the development and deployment of advanced reactors, noting the importance of cooperation with JAEA, including preparatory meetings held prior to this symposium. He mentioned INL provides laboratory expertise and capabilities for private-sector and test beds to support reactor demonstrations and technology testing through numerous private-public partnerships and a wide range of research programs, such as Advanced Materials and Manufacturing Technologies (AMMT), Nuclear Science User Facilities (NSUF), Advanced Sensors and Instrumentation (ASI), and Advanced Fuels Campaign (AFC) and Fuel Test Capability utilizing Advanced Test Reactor (ATR) and Transient Reactor Test Facility (TREAT). He also described the MARVEL microreactor to be built, the activities of the National Reactor Innovation Center (NRIC) including the establishment of the Dome test bed using EBR-II dome, the Lotus test bed reusing the Zero Power physics reactor facility (criticality experimental unit), cost and market initiatives, and the Integrated Energy System (IES) research facilities. Regarding the cooperation between INL and JAEA, he mentioned the irradiation tests at ATR and TREAT, OECD/NEA HERA project as existing items of mutually complementary cooperation using the unique facilities of INL and JAEA, and possible new topics such as the test at JOYO in the future.
Mr. HAYAFUNE Hiroki, Deputy Director General, Sector of Fast Reactor and Advanced Reactor Research and Development, JAEA (CV, Presentation Material), made a presentation on the strategic roadmap for fast reactor development in JAEA, the licensing approach of JOYO (e.g. use of the SIMMER code) and its irradiation capability, and the SmART cycle including minor actinide (MA) fuel separation and irradiation. Regarding U.S.-Japan collaboration, he emphasized the relevant ongoing items, including the irradiated MOX pin test by TREAT, and codes and standards development through JSME and ASME, as well as possible future collaboration topics of nuclear innovation research, such as MA bearing fuel production and irradiations, advanced fuels and materials irradiations, SFR R&D for metal fuel and core, IES study, floating seismic isolation systems, and 3D printed fuels. He stressed that JOYO can be used to irradiate fuels for not only fast reactors but also other types of advanced reactors such as molten salt reactors. He mentioned the possibility of cooperation in the development of fast reactors, such as the reconstruction of the supply chain for cladding and other materials.
Mr. SATO Hiroyuki, Deputy Director, HTGR Project Management Office, JAEA (CV, Presentation Material), introduced HTGR development at JAEA and the collaboration with the U.S. on HTGR. He described licensing experiences of HTTR and the coupling plan of the HTGR and H2 plant and referred to the current collaboration with NRC and INL including validation of HTGR simulation methods & models using HTTR data, as well as potential future collaboration with NRC such as technical discussion related to HTGR safety standards & safety analysis.
Serving as panel moderator, Mr. Stephen G. Burns, former Chairman of NRC (CV), concluded the discussion by noting that common keywords throughout the panelists' presentations included partnership, collaboration, readiness, innovation, and IES, and emphasized the importance of continued U.S.-Japan partnerships and government-industry partnerships in the international community.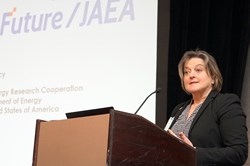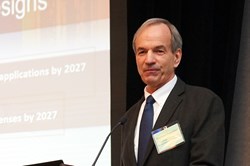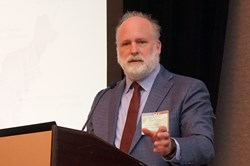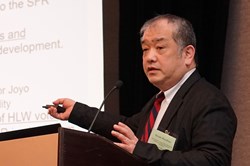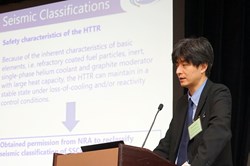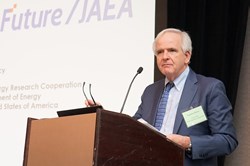 Panel Discussion 2 "U.S.-Japan Cooperation in R&D to Improve Safety of Existing Reactors"
Ms. Joy Rempe, Principal, Rempe and Associates, LLC (CV, Presentation Material), cited the objectives of Fukushima Forensics (DOE-led forensics effort by experts of the U.S. and Japan to analyze the accident at TEPCO's Fukushima Daiichi Nuclear Power Station, which started in FY2015), its participating institutions (research, industry, universities, regulatory agencies, etc.), insights, severe accident response in the U.S. based on these insights, and actions to enhance reactor safety. She also mentioned that the insights of Fukushima Forensics will be presented to TEPCO by this U.S.-Japan team on the necessary information (including suggestions on how to obtain it) and explained the process of how TEPCO will use the information in future surveys.
Mr. AMAYA Masaki, Deputy Director General of Nuclear Safety Research Center, Nuclear Safety Research and Emergency Preparedness, JAEA (CV, Presentation Material), provided an overview of safety research being conducted by JAEA as a technical support organization (TSO) for NRA, as well as examples of the areas expected for future collaboration under the Memorandum of Cooperation (MoC) between NRC and JAEA. Specifically, he mentioned expectations for cooperation with INL under the OECD/NEA FIDES-II/HERA project in the field of fuel safety, and for collaborative research using facilities in JAEA and in national laboratories under DOE.
Mr. Steve Swilley, Vice President, Deputy Chief Nuclear Officer of Nuclear Research & Development, Electric Power Research Institute (EPRI) (CV, Presentation Material), introduced EPRI members, issues that EPRI focuses on, and the status of nuclear power reactors in the U.S. including capacity factor, unplanned reactor shutdowns, license renewal, etc. He noted that the number of nuclear reactors in operation will dwindle to zero by 2050 unless the life of the existing fleet of reactors is extended to 80 years, and stated the need for their long-term operation. He also mentioned that even if the long-term operation is licensed, there are cases where the operation may be suspended for economic reasons and that continuous improvement of safety and economic feasibility through optimization using the latest technology, such as digital technology, is necessary.
Mr. OSAKA Masahiko, Division Head, Fuel and Materials Engineering Division, Nuclear Science and Engineering Center, JAEA (CV, Presentation Material), outlined ATF R&D program in Japan, as R&D on light water reactor (LWR) system that JAEA conducts with the view to contributing to electric utilities and referred to the evaluation of aging deterioration of pressure vessel steel due to long-term operation, etc. He also mentioned that irradiation tests for ATF plan to be conducted as a US-Japan collaboration under the CNWG framework and that outcomes will be shared in the annual EPRI/DOE/INL Joint Workshop.
Mr. MURAKAMI Nozomu, Engineering Manager, Reactor Core & Safety Engineering Department, Nuclear Energy Systems, Mitsubishi Heavy Industries, Ltd. (MHI), (CV, Presentation Material), participating via video message and online, summarized Cr-coated Zr-alloy cladding that MHI has been developing and referred to the irradiation tests in ATR they plan to conduct in collaboration with INL.
After the presentations, Mr. Richard A. Meserve, former Chairman of NRC (CV), another panel moderator, concluded by pointing out that the information included in these presentations are necessary to further improve the safety of nuclear power generation in the future and the importance of the close relationship between Japan and the U.S., mentioning that the both have learned a lot from each other in the process.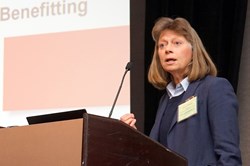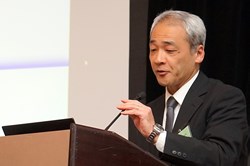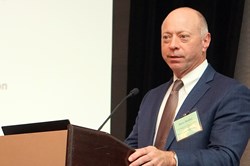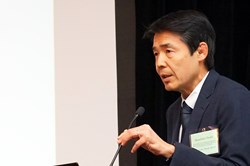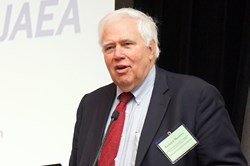 Mr. Paul Dickman, Senior Policy Fellow, Argonne National Laboratory (CV), and Mr. Damian Peko, Senior Advisor, the Office of International Nuclear Energy Policy and Cooperation, DOE (CV), each summarized the symposium. Mr. Dickman pointed out the importance of having trusted partners, the need to invest in R&D and to build relationships between the research community and regulatory authorities. He also mentioned that while computer codes are important, it is even more important to have test facilities to collect test data to verify the codes; from this perspective, many stakeholders wish JOYO to resume operations, and that human resource development is the key to the development of nuclear energy. Mr. Peko, reflecting on the symposium as a whole, noted that the nuclear renaissance of 15 years ago has since lost momentum, but that nuclear energy has inevitably been back with two new forcing functions: climate change and energy security. He also mentioned the continued US-Japan cooperation as reliable partnership in light of what has happened over the past year; and the importance of JOYO, the only fast reactor in the western world.
In his closing remark, Mr. FUNAKI Kentaro, Executive Director, JAEA (CV), thanked all those concerned and symposium participants for their cooperation in organizing the symposium. He closed the symposium by pointing out the need to further strengthen cooperation to advance R&D on advanced reactors and existing fleet, the importance of increasing the value of nuclear technology by promoting R&D cooperation and sharing that value with the international community and younger generations, and expressed his hope to meet again in Washington next year with further results.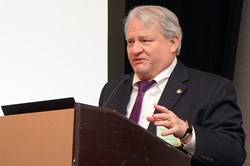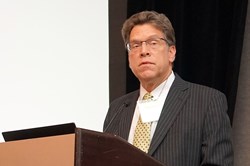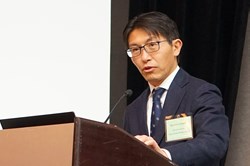 The Symposium was held in a face-to-face format for the first time in three and a half years and meaningful discussions were made reflecting on recent developments in the U.S. and Japan with the participation of key figures in the nuclear R&D fields of both countries. JAEA will continue to take advantage of various opportunities to expand networking with the United States.