| | |
| --- | --- |
| | Press Releases |
Development of a new laser system for plasma diagnostics with the world's highest performance
-Highly accurate measurement of plasma temperature and density is achievable in ITER-
Mar. 27, 2012
The Japan Atomic Energy Agency (JAEA) has succeeded in development of the YAG laser system for plasma diagnostics in ITER (International Thermonuclear Experimental Reactor) with world highest performance, having the twice average power of conventional laser (see Fig. 1 and Fig. 2),
The JAEA is responsible to develop "the edge Thomson scattering systemEmeasuring temperature and density of plasma on the ITER project. Since this diagnostic system requires a pulsed YAG laser system with 500 W of average power (output energy of each pulse; 5 J, repetition rate; 100 Hz), development of the laser system which satisfies above requirement is an essential issue.
Previously, the YAG laser system with 373 W (7.46 J, 50 Hz) of average power developed by the JAEA was the world highest performance. In order to develop the laser system required in ITER, it is necessary to increase the repetition rate to be double together with decreasing of the input pumping energy per a pulse to be a half due to a heat load limitation at the laser amplifier. However, there was a serious problem that the amplification gain falls and it cannot extract the energy in the amplifier efficiently as a laser light. To resolve the problem, the special glass in which the "SamariumEis doped was applied in the amplifier to reduce the noise of the light which prevented from the efficient energy extraction from the amplifier. Since it became possible to extract the energy in the amplifier efficiently, the new amplifier has realized the twice of amplification gain compared with that of the existing amplifier even that the input energy is as small as half. Consequently, it has been achieved 766 W (7.66 J, 100 Hz) which is twice of conventional average power, hence the development of laser system which exceeds a required performance in ITER has been succeeded. By employing this new laser system, highly accurate measurement of plasma temperature and density in ITER is achievable.
The new laser system is applicable to a therapeutic apparatus with the laser-driven particle accelerator which are expected as the advanced cancer medical treatment. This work was presented at the 19th Topical Conference on High-Temperature Plasma Diagnostics (Monterey, CA, USA, 7 May 2012).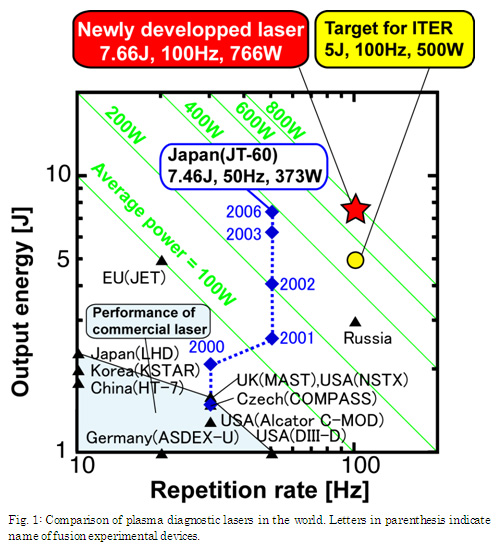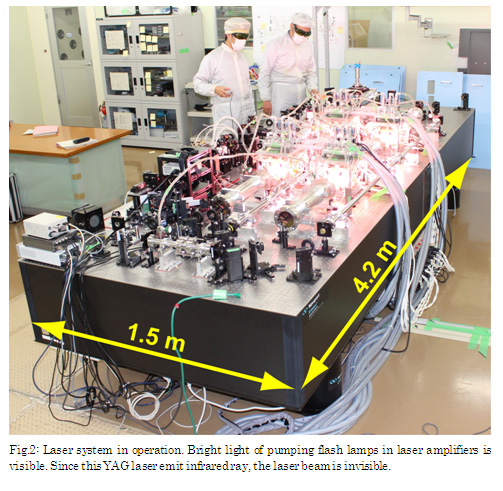 [ BACK ]