| | |
| --- | --- |
| | Press Releases |
Development of A Free Software Named "Calculation System for Decontamination Effect (CDE)E to Support Planning of Decontamination for Recovery of Environment
Oct. 31, 2011
JAEA Nuclear Science and Engineering Directorate has developed a software named "Calculation System for Decontamination Effect (CDE)Eto assess the reduction of dose rates by decontamination of radioactive cesium deposited on the ground. CDE is released as a free software from JAEA web page. In order to reduce the dose rates elevated by the environment contamination in the accident of Fukushima Daiichi Nuclear Power Plant, decontamination efforts are planning to be established. This software can estimate the decontamination effects and support to consider effective decontamination plan before activities start.
The software CDE can calculate a dose rate distribution and visualize it on the map of target area by inputting a radioactivity distribution such as monitoring data performed by the Ministry of Education, Culture, Science and Technology (MEXT). Defining the decontamination target area, the calculation results as a color map can be visualized in a few seconds. It has been confirmed that the CDE calculation results have comparable accuracy with those by 3D Monte Carlo simulation code for precise radiation transportation.
By using CDE, various case studies for decontamination area and for decontamination factor defined as a ratio of original radioactivity to remaining one after decontamination, are available in a short period and a rational decontamination plan can be established. The CDE targets are the large areas including public facilities such as schools, houses, farms, forests, etc. It runs on "Microsoft® Excel 2007/2010Ewith a user friendly graphical interface. CDE is expected to be a useful tool for considering methods, evaluating results, etc in the decontamination activities by local governments, etc. CDE is distributed free on the JAEA homepage (URL: http://nsed.jaea.go.jp/josen).
Example of calculation result for dose rate distribution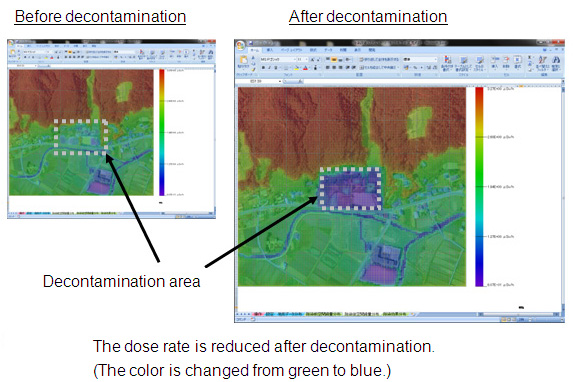 [ BACK ]